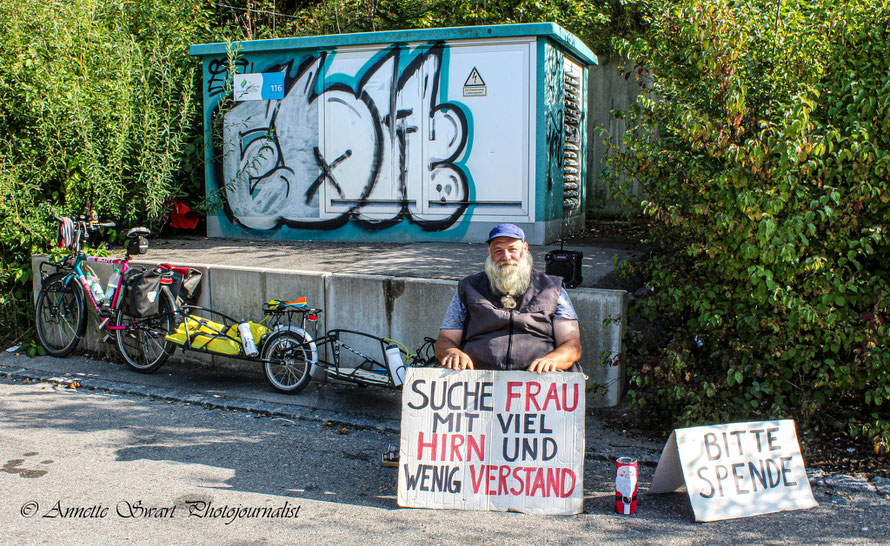 Da sitzt er. Er sitzt auf einem Campingstuhl in der warmen Herbstsonne, hört laut Radio, hat sein Fahrradgespann im Hintergrund stehend und lächelt über sein ganzes Gesicht. Beim ersten Anblick etwas irritierend, denn sein Strahlen lenkt von seinem Plakat ab. Ja, dieses merkwürdige Plakat.... "Suche Frau mit viel Hirn und wenig Verstand", daneben steht eine Weihnachtsmann- Sammelbüchse und wiederum daneben die Bitte zu spenden. Eine nahezu groteske Szene. Sofort will frau fragen ob mit Hirn nicht Herz gemeint sei. Aber irgendwas hält mich ab genauer nachzufragen. Ich will erst diese ganze Szene erfassen. Frau Hirn Verstand Weihnachtsmannbüchse Spende. Und dann frage ich mich doch: Was sucht dieses Sonnengemüt denn wirklich? Und wofür genau soll gespendet werden? Für seine Suche oder für eine Frau ohne Verstand? Aber gerade dieses irritierende Plakat lässt den Betrachter kurz innehalten, hinsehen und in lautes Lachen ausbrechen. Ziel erreicht, denkt sich das sitzende Schelmengesicht. Und strahlt über sein ganzes Gesicht. Und dann ist urplötzlich genau dieser wunderschöner Moment da. Zwei sich völlig fremde Menschen sehen sich für einen Moment an, schenken einander ein tiefes Lächeln und stimmen für ein paar Augenblicke miteinander überein. Ein liebevolles Geschenk im Moment des Zufalls.
Ich frage ihn, ob er denn noch gar keinen Erfolg mit seiner Suche hatte, aber er kann nicht antworten. Er ist stumm, er hat keine Stimme. Er antwortet mit seinen Armen und Händen, die er zum Himmel streckt als würde er sagen wollen, ja, das ist halt Gottes Wille. Und schenkt mir wieder dieses wunderschöne, tiefe und zufriedene Lächeln.
There he is. A man with long white beard sits in the warm autumn sun on his camp chair, listening to the radio, his bike with trailer leaned against the wall, himself with a deep smile on his face. A bit confusing for the viewer because you first see this deep smile of that man and afterwards his poster. "Search for a woman with a great brain and a little mind". Next to this strange poster stands a Santa Clause collecting box and beside then a request to donate. 
Immediately one wants to ask whether he really meant great brain? In German the words Hirn (brain) and Herz (heart) are quite closed to each other. But first the whole scene has to be captured. Woman brain mind collecting box. And then you start to ask yourself what is this man really searching for? For a woman without mind? Can´t be.  But suddenly you look at the poster  then have a look at this great smiling face and you start to laugh loud out. Goal achieved thinks this rogue and gives you his wide smile. What a wonderful moment. Two strangers looking to each other giving each other a very deep smile. 
I ask him why he was not successful yet but he cannot answer. He has no voice, he is dumb. And then he stretches his arms towards the sky as if he wants to say it is God´s will and gives me again another wide smile.
---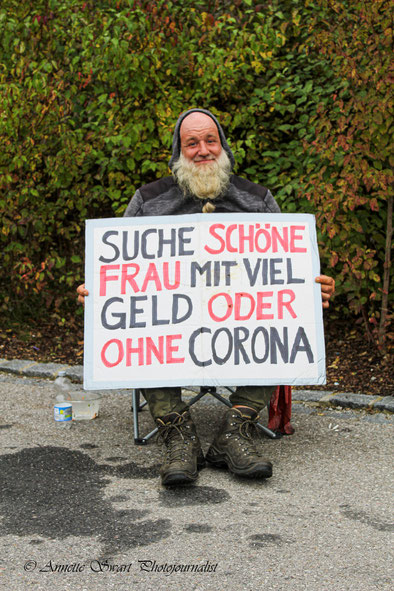 ---